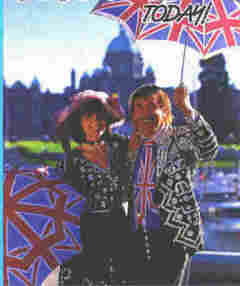 Pearly Gear and Pearl Buttons.
---

Part of London's rich tradition, pearly gear is worn by Cockneys in festive mood, costumes with distinctive patterns of mother-of-pearl buttons sewn on by hand. Pearly Kings and Queens, Pearly Princes and Princesses can be seen on parade in London festivals and at the annual Harvest Festival in St Martins-in-the-Fields.

In this picture Vicky and I are in our own pearly gear, not for sale.