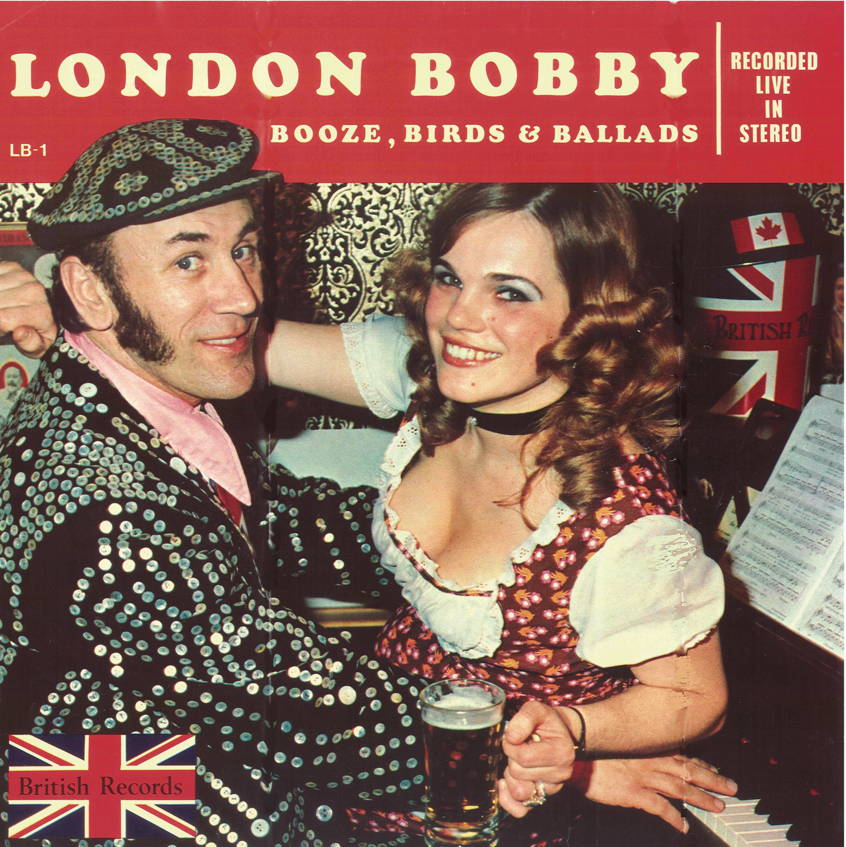 British Records
Division of London Bobby Entertainment
BR3101B LONDON BOBBY, AT THE PUB, Volume 2 Recorded live in The Barmaid's Arms, 1972. Pub Songs, Party Sing-a-Long
Warning: This record contains material which, when recorded in 1971, was considered funny. Now, in these days of enlightenment and political correctness, it could be considered offensive. At the time the pub audience contained all manner of people and even those who were centred out were laughing, nobody complained.
Side 1
I've got a Lovely Bunch of Coconuts (reprise)
I Don't Want to Join the Army
Christmas Day in the Cook'ouse
Tidings of Comfort and Joy
Row, Row, Row,
Butlins
The Eagles they fly high in Abilene
Mother's Lament,
Don't Cry Lady
Sister Grace
Big Bad Bruce
Puff
The Lambeth Walk (excerpt)

Side 2
April Showers,
My Mammy,
Ding-a-Ling,
Little Brown Mouse,
I 'Ad 'Er (Peter Seller's Somerset Folk Song),
Vatican Rag,
Put on your Old Grey Bustle,
Two Lovely Black Eyes,
Three Old Ladies,
Why was he Born so Beautiful?
---
To get your copy click here for order form.
---
Inquiries? email:bob@londonbobby.com
London Bobby Entertainment
Toronto, Canada Page design by Hugh Robert Smith, (c) 1998 London Bobby Entertainment, Updated July 2, 2012