How did I get to be such an expert?
Well, I am not an expert but in my youth in London I went to the local variety theatres (Chiswick Empire, Shepherd's Bush Empire) and saw some of these acts. This is really an arbitrary list of the ones I like. I love magic. Every time there was a magician or ventriloquist on the bill, I was there. I saw The Great Lyle, Tommy Cooper, Al Koran, Tattersal, Daisy Mae and Saveen, Billy McCoomb, Blackstone, Arthur Worseley, Peter Brough and Archie Andrews and a lot of great magicians who were not famous at all. Saturdays I hung out at the magic shops, Davenport's and Harry Stanley's in London.

While going to see magicians I also saw headliners, George Formby, Max Miller, Vera Lynn, Arthur Askey, Vic Oliver and many pop singers of the day who were top of the bill with a song on the hit parade. Links to info and some videos of these characters are in the list on the left.

I turned out to be a better singer than magician so that is what I do now for a living. Usually you will find me and many other entertainers floating around the ocean doing our shows on cruise ships because venues on land for live entertainment are becoming more and more rare as DVD and HDTV take over. So take a cruise and see some live entertainment, much of it has its roots in Music Hall. I know mine does.

Click here to find out where I am doing my songs at the piano, sometimes I sneak in a trick or two (not the linking rings, my wife won't let me do that) and even an occasional duet with Horace, my wooden friend.
London Bobby
The Beginning of Music Hall
Music Hall began in the pubs when the gaffers started hiring entertainers to attract customers. As it grew in popularity they built halls for the express purpose of entertainment. Music Hall finally gave way to the cinema but it still lives in occasional revivals and - ta da! - London Bobby's Dinner Show and tapes and CDs! Many of today's acts have strong echoes of the genre. (Mine does, hear some Sound Clips or Video Clips .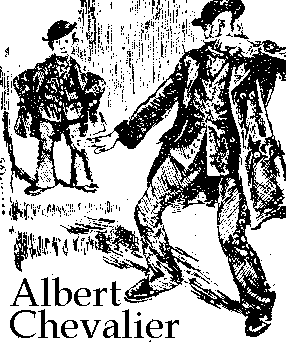 This picture is of Albert Chevalier and comes from the cover of his second song album, published by Reynolds & Co., London, no copyright date.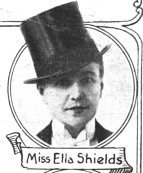 Click Here for Music Hall Songs, Lyrics
---