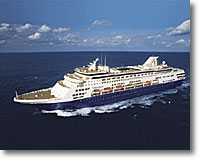 Holland America Line
Cruise Ship: A Floating Entertainment Complex!
Piano entertainer London Bobby can be seen often on Holland-America's elegant cruise ships, most recently on the ms Noordam visiting European capitals in the Baltic and the Mediterranean. Typical of Holland America's cruise ships, this is a floating live-entertainment multiplex. Each ship carries over 1000 guests and a crew of nearly 600. About 30 are musicians and entertainers.
There are many entertainment venues on the Noordam:
the Piet Hein Lounge (dance trio),
the Shanty Bar (piano bar), a very intimate corner at the back of the ship
the Explorers' Lounge (string trio)
the Crow's Nest (piano), an observation lounge overlooking the bow
the Showroom, a two-deck, 600-seat show lounge featuring Broadway-style entertainment and variety shows with a live orchestra.
The Piano Bar on the ms Noordam is an intimate lounge with bar stools around the grand piano, and seating at tables for about fifty. And of course the ship has luxurious state rooms, magnificent dining, a movie theatre, meeting rooms, a casino and the Lido cafeteria style restaurant, swimming pools, etc.
London Bobby has been presenting his comedy, songs and piano stylings on HAL cruise ships since 1996, most recently on the ms Noordam, Jun/03 to January/04, see Where is he now?
---

email: bob@londonbobby.com London Bobby Entertainment Page design by Hugh Robert Smith, © 2009 London Bobby Entertainment