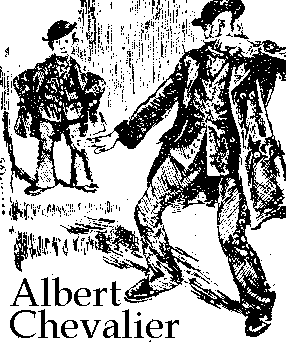 British Music Hall
---
Quoting Peter Leslie quoting Genet of the New Yorker:

Music Hall was a form of theatrical life whose mummy, embalmed by memory, is still livelier than anything that has appeared since to take its place.

Music Hall began in the pubs when the gaffers started hiring entertainers to attract customers. As it grew in popularity they built halls for the express purpose of entertainment. Music Hall finally gave way to the cinema but it still lives in occasional revivals and - ta da! - London Bobby's Dinner Show and tapes and CDs!

The picture is of Albert Chevalier and comes from the cover of his second song album, published by Reynolds & Co., London, no copyright date.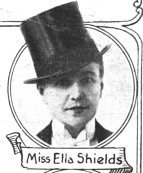 Some Entertainers of note:
First half of the 20th century and back

Arthur Askey
Albert Chevalier See lyric
Harry Champion
Tommy Cooper
Billy Dainty
Arthur English
Flanagan and Allen
George Formby, Sr. and Jr.
Web site link on exit page
W.C. Fields
Will Fyfe
Will Hayes
Dickie Henderson
Stanley Holloway
Frankie Howerd
Fred Karno
Sir Harry Lauder
Stan Laurel
Dan Leno
Marie LloydSee lyric
Maskelyne and Devant
Max Miller
Vic Oliver
Old Mother Riley
Ella Shields
Vesta Tilley, biography
Wilson, Keppel and Betty

From the war years to the present

Chas and Dave
Tommy Steele
Danny LaRue, link on exit page
Roy Hudd
Ken Dodd
Ringo Starr
Freddy Starr
Max Bygraves
Brian Conley, link on exit page
Norman Wisdom
Victoria Wood
The Two Ronnies
Billy Connolly
Max Boyce
Mike Harding
Des O'Connor

Gracie Fields
Click Here for Music Hall Songs, Lyrics
---
Music Hall on Radio
This will eventually be an international listing of radio programs that play British Music Hall. Here's a start:
Calling All Britons, Radio CHWO 1250 am,
audible in the Toronto, Hamilton and Niagara Peninsula area.
Saturdays 5 to 7PM.
Contact: Colin Hoare, Radio CHWO,
284 Church St.,
Oakville, Ont. Canada.
---
Music Hall - Live
Player's Theatre link on exit page
---
Music Hall on the Web: I shall add links as I find them, if you know any good ones please email me. Some I found are on my exit page.
---

email: bob@londonbobby.com
FAX: (250)744-2094
London Bobby Entertainment
105-1497 Admirals Road, Suite 611, Victoria, BC, V9A 7N8, Canada


This British Music Hall Web Ring site owned by Robert Smith.
[ Previous 5 Sites | Previous | Next | Next 5 Sites | Random Site | List Sites ]